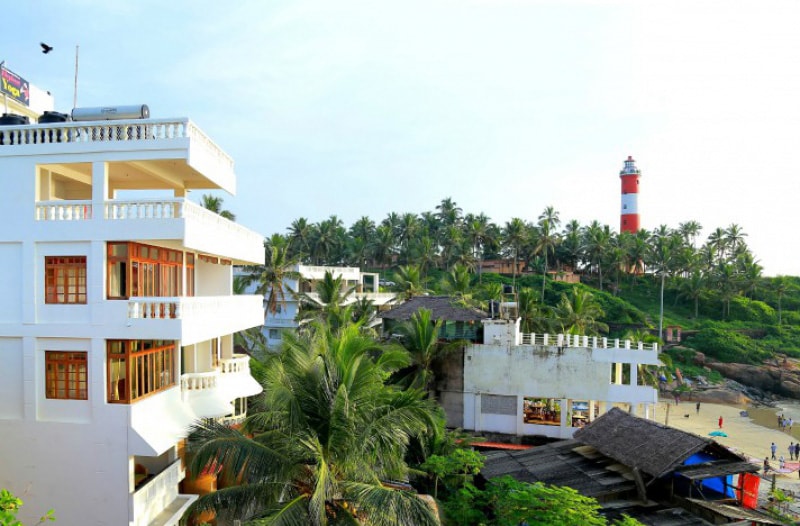 Little Elephant Beach Resort
The resort is located in 5600 sq. ft. plot near light house, 200 meters away from Kovalam beach. The resort includes five double bedrooms and two apartments with the beautiful view of sea and free Wi-Fi. All five doubles bedrooms are furnished with king sized bed, attached bathroom, sea view balcony, sofa, cupboard, refrigerator and free toiletries. We also provide kettle and extra bed facility on request.
Two apartments are located in first two floors of the resort, each furnished with attached bathroom, one king size bed and a single bed. Kitchen, utensils, refrigerator, dining table, sofa are all part of the apartment. It is best suited for family or a group of four members.

History
In 1980, a small tourist home named as 'Thomas house' was started at Kovalam- one of the famous tourist spots in India. In 2011, the ownership transferred to Mr. Freddy and Anna, they renovated the resort with two new apartments and renamed it as 'Little Elephant House'. In 2013 Mrs. Anna handover the business to Mr. Manoj and Tijo, they renamed the resort as 'Little Elephant Beach Resort and renovated two old apartment, one double bedroom, and constructed new four double bedroom.

Health Tourism
Ayurveda and health tourism is very popular in Kerala. We have our own Ayurvedic Centre with well experienced doctors and therapists. Their service will be available during your stay in our hotel, and we also organize physical and dental consultation, we own another institution for this purpose. If you are interested in any of these services, please mention it in booking details.

We do also have a yoga center with daily classes at 7 am and 5 pm conducted by well experienced yoga master Mr. Sudhesh. All of our guests are invited to be a part of it. Special yoga classes will be conducted for beginners.


Our Services
Daily cleaning and fresh towel

Laundry service
Air port transfer ( INR 900/1200)
wake up call
News paper on request
Currency exchange
Travel assistant
Baby Sitter
Other Information
Distance from resort to various Transport Stations
Trivandrum Railway station- 16 km
Trivandrum Bus station- 16 Km
Trivandrum Airport- 10 km
Kovalam Bus station- 2 km
Vizhinjam Bus station- 2 km
Auto-Rikswa and Taxi stand- 500 meter
Distance from Resort to various Attractions
Light house- 500 meter (Open 0900 -1730hrs)
Vizhinjam harbour -1 km
Poovar back water - 12 km
Thiruvallm back water - 10 km
Vellayani lake- 5 km
Vizhinjam marine aquarium- 500 meter (Open 0900 -1730hrs)
Vizhinjam rock cut cave temple -1 km (Open 0900 -1800 hrs)
Parasurama temple - 10 km
Shops and Restaurants are located near the resort and will be open till 11 pm at night. For more shopping experience, we recommend you to visit Trivandrum City.



↑